Mozambique: Mozambican Visual Artist Lizette Chirrime Starts Crowdfund for Urgent Medical Procedure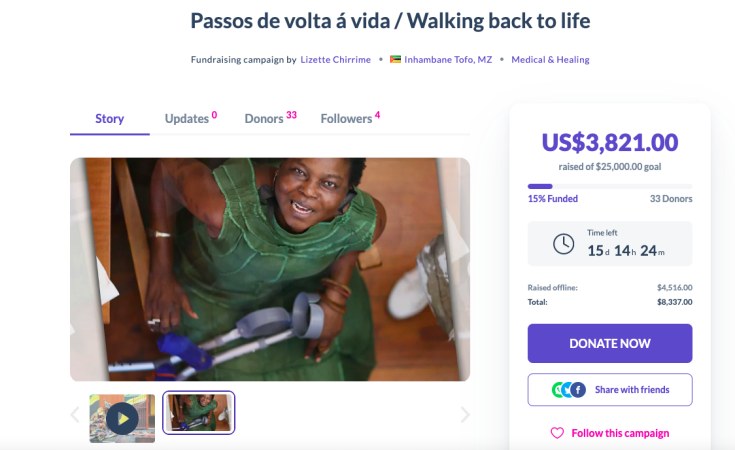 A GoGetFunding has been set up to help raise funds for Lizette Chirrime's surgery.
By Melody Chironda
Cape Town — In 2020, at the height of the Covid-19 pandemic, Lizette Chirrime underwent successful, life-changing hip replacement surgery. Now doctors have revealed that the surgery was not as successful as initially thought, and this is threatening her life.
The self-taught multidisciplinary artist, according to Morton Arts, is well known for her "artistic work of combining textiles and found objects, in her symbolic abstract works – drawing inspiration from her journeys and dreams. Chirrime's interplay between textiles and abstraction, as well as her palpable use of art as a therapeutic and spiritual tool, brings forth a reconfigured understanding of representation and human nature, using thread after colored thread to inspire hope and healing."
Following a three-month residency at Greatmore Studios in Cape Town in 2005, she lived in South Africa until 2021, then returned to her native Mozambique. She has been featured in numerous galleries and museums such as Cape Town Art Fair, Kubatana, Vestfossen Kunstlaboratorim, Norway, including a solo exhibition, Rituals for Soul Search, at Morton Fine Art in Washington, DC
In addition to her exhibitions, she has participated in Nando's Artist Society, Nando's Chicken Run, as well as Yellowwoods Art's Creative Block programme.
But now, Chirrime is facing the greatest challenge of her life.
She is seeking help from friends, family, and kind-hearted donors to help pay for her operation in India.
Outlined on her GoGetFunding page, Chirrime said that in 2020, in the middle of the pandemic, she underwent hip replacement surgery in South Africa and all was well until just over a year later when she began experiencing pain.
And after two years of constant pain and much research for relief, she was told that she needs to get another hip replacement.