18 September 2015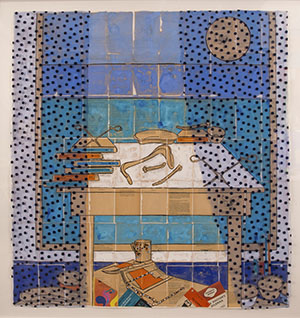 The career of Melbourne-based artist, Katherine Hattam, is surveyed in the latest Deakin University Art Gallery exhibition.
Katherine Hattam: Desire first: 1978–2015 showcases works from Hattam's entire career to date, including paintings, drawings, prints and sculpture.
In a practice that has extended over five decades, Hattam has developed a distinctive register of recurring motifs, in particular the chair and other domestic objects, which she combines with references to literature, feminism, art history and modern psychoanalysis in the creation of beguiling and personally symbolic works. A psychological charge is manifest in much of Hattam's work, as anthropomorphic chairs stand in for a range of family members and a strong presence of the artist herself is evident in the spaces she depicts.
Deakin University Art Gallery Manager Leanne Willis said it was an honour to present the survey exhibition.
"Katherine Hattam is a contemporary Australian artist of great merit and has been a valuable contributor to the Melbourne visual culture since the late 1970s," Ms Willis said.
"Deakin University has a long relationship with Katherine as she completed her PhD here in 2003, so it seems fitting that we are the venue to present a survey of her work."
Exhibition curator Emma Busowsky Cox said Hattam's work "tantalises with suggestive references".
"Hattam uses personally symbolic materials, such as deconstructed Penguin classics from her late mother's collection, or unfinished paintings by her artist father, alongside references to family politics, art history and psychoanalysis which hint at hidden meanings and unresolved relationships," Ms Busowsky Cox said.
Supporting the exhibition is a catalogue including an essay by exhibition curator Emma Busowsky Cox, with a preface by Patrick McCaughey.
Hattam has exhibited widely throughout Australia. Her work is included in numerous major public collections including the National Gallery of Australia, the National Gallery of Victoria, Heide Museum of Modern Art, the Bendigo Art Gallery and Queensland Art Gallery/Gallery of Modern Art. She is represented by Daine Singer, Melbourne and Morton Fine Art, Washington, DC.
Katherine Hattam: Desire first 1978–2015runs to 16 October at the Deakin University Art Gallery, Burwood Campus, 221 Burwood Highway, Tuesday to Friday between 10am and 4pm, or by appointment on Monday for groups over 10. Entry is free.
Free floor talks with the artist and exhibition curator will be held on Wednesday 30 September at 12.30pm and Friday 16 October at 12.30pm.
Visit Morton Fine Art for available work by KATHERINE HATTAM.
Morton Fine Art, 1781 Florida Ave NW, Washington, DC 20009
(202) 628-2787, mortonfineart@gmail.com