David C. Driskell Center to Present Community Selector Show Aimed at Helping to Tell the Story of the David C. Driskell Center
September 06, 2022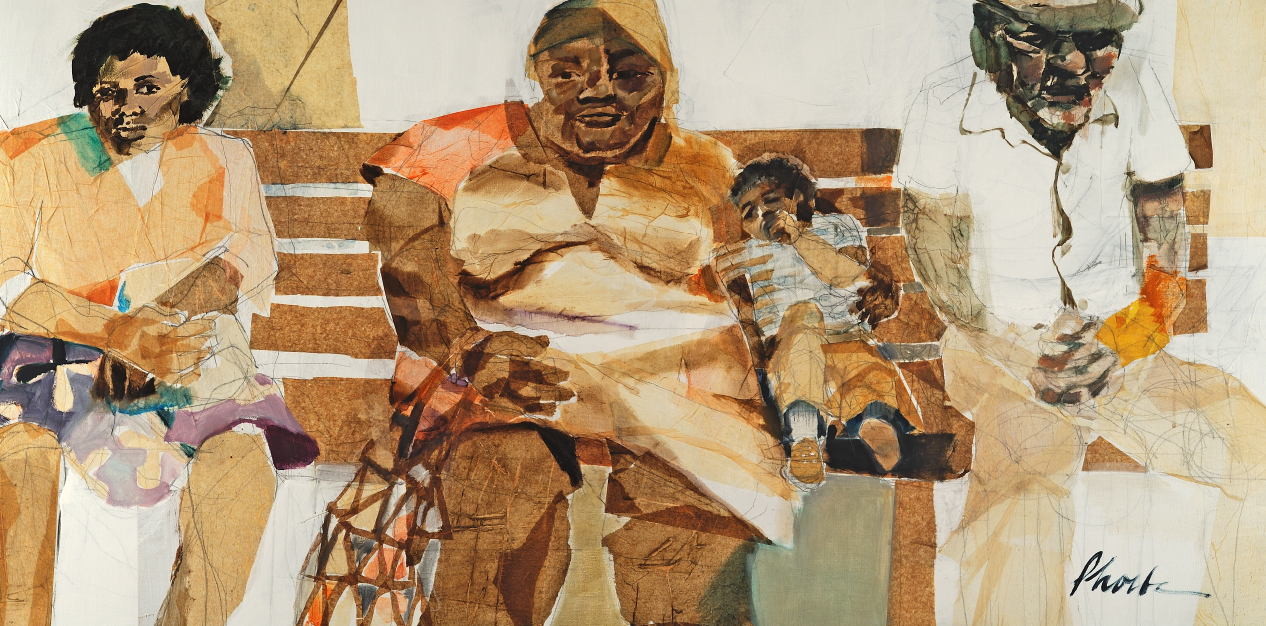 The David C. Driskell Center is proud to present its fall 2022 exhibition, Telling Our Story: Community Conversations with Our Artists, on view September 9 through December 2, 2022. 
FOR IMMEDIATE RELEASE
NEWS RELEASE
Contact: Ms. Tamara Schlossenberg
Title: Collections Manager
Phone: 301-314-2615, Email: tschloss@umd.edu
DAVID C. DRISKELL CENTER TO PRESENT COMMUNITY SELECTOR SHOW AIMED AT
HELPING TO TELL THE STORY OF THE DAVID C. DRISKELL CENTER
COLLEGE PARK, MD. – The David C. Driskell Center for the Study of the Visual Arts and Culture of African Americans and the African Diaspora at the University of Maryland, College Park, is proud to present its fall 2022 exhibition, Telling Our Story: Community Conversations with Our Artists; the exhibition is on view at the Driskell Center from September 9 through December 2, 2022. The exhibition is the second in a series focused on telling the story of the David C. Driskell Center. The exhibition is curated by Kayleigh Bryant-Greenwell, Associate Director of Outreach and Operations at American University's Antiracist Research and Policy Center, assisted by Tamara Schlossenberg, Collections Manager at the David C. Driskell Center and Professor Curlee R. Holton, Director of the David C. Driskell Center.
ABOUT THE EXHIBITION: Telling Our Story: Community Conversations with Our Artists is a show focused on the art of dialogue—the dialogue between art, artists, and the viewer. The Center invited a group of guest selectors to view the Center's collection of art online and select five works for possible inclusion in the exhibition. They were then invited to come view the works in person and select two that resonated with them. In the spirit of David Driskell and his famous letter writing to artists, each selector was asked to write a letter to the artists of their chosen artworks stating why they like the piece, how it captured their interest, and why it is significant to them. They were encouraged to express any historical, personal, or societal significance that led to the selection process. Prof. Curlee Holton remarked:
When an artist creates a work of art, it reflects their constant dialogue, both internal and external, with their identity and the world they inhabit. By encouraging the audience to explore and develop an interpersonal connection to the work they're viewing, it allows us to have access to a diverse, multifaceted, and multigenerational perspective while broadening and enhancing the appreciation of the creative genius of the visual arts, especially that of the African American artists.
More than forty works were selected for the exhibition representing the art of thirty-one artists from the David C. Driskell Center's Permanent Collection. The works are on display along with accompanying letters both handwritten and typed.
The show includes works from the following artists:
Emma Amos (1937-2020)
Phoebe Beasley (b. 1943)
Robert Blackburn (1920-2003)
Lillian Thomas Burwell (b. 1927)
Milton Bowens
Elizabeth Catlett (1915-2012)
EKO
Ed Clark (1926-2019)
Allan Rohan Crite (1910-2007)
Barbara Chase-Riboud (b. 1939)
Kevin Cole (b. 1960)
Louis Delsarte (1944-2020)
Meta Vaux Warrick Fuller (1877-1968)
Herbert Gentry (1919-2003)
Robin Holder (b. 1952)
Manuel Hughes (b. 1938)
Jacob Lawrence (1917-2000)
Samella Lewis (1923-2022)
Delita Martin (b. 1972)
Arcmanoro Niles (b. 1989)
Mary Lovelace O'Neal (b. 1942)
Gordon Parks (1912-2006)
Jefferson Pinder (b. 1970)
Amber Robles-Gordon (b. 1977)
Alison Saar (b. 1956)
Augusta Savage (1892-1962)
Frank Stewart (b. 1949)
Renee Stout (b. 1958)
Walter H. Williams (1920-1998)
Richard Wyatt (b. 1955)
Twenty guest selectors as well as guest curator Kayleigh Bryant-Greenwell each selected one to two works of art to be included in the show. Selectors include: Mr. Steven Bell and Mr. Burdette Brown, Mr. Reginald Brown, Ms. Zoë Charlton, Mr. David Cronrath, Ms. Cheryl Edwards, Mr. Larry Frazier, Mrs. Juanita and Mr. Mel Hardy, Ms. Gia Harewood, Mrs. Juanita and Mr. Neil Hartbarger, Ms. Barbara Luke, Mr. Taras Matla, Ms. Rhonda Matheison, Mr. Rodney Moore, Ms. Erica Bondarev Rapach, Ms. Halima Taha, Mr. Riley Temple, and Dr. Sheila Wright.
An exhibition brochure with a full checklist of the works selected for the show will be available at the gallery. The show will have an opening reception September 8 at 6PM; the first fully in-person opening since the pandemic closures.
Kayleigh Bryant-Greenwell remarked about the show: "Individually, this exhibition demonstrates the power of art to affect one-on-one. But collectively, this exhibition demonstrates the future of the Driskell Center, with new community engagement opportunities and a continued collaborative spirit."
The exhibition will also feature a special tribute to the late Sam Gilliam (1933-2022) in the recently established David Clyde Driskell Gallery Space. The space will feature artwork and archives by and about Sam Gilliam from the David C. Driskell Center Permanent Collection and David C. Driskell Papers.
The David C. Driskell Center Gallery is open Mondays-Wednesdays, and selected Saturdays [Sep. 17th, Oct. 22th, and Nov. 19th] 11AM-4PM, and Thursdays 11AM-6PM.
Cover Image: Rest Stop (1979) by Phoebe Beasley, oil on canvas, 23.50 x 47.50 in., © Phoebe Beasley, 2013, Gift from the Sandra and Lloyd Baccus Collection.