Inspired by family mythologies and personal experiences, 
KESHA 
BRUCE
's photography series 
(Re)calling and (Re)telling
 creates open narratives addressing aspects of African American history and experience through memory and storytelling. The complete 14 piece series of 
(Re)calling and (Re)telling
 is in the permanent collection of the new Smithsonian Institution National Museum of African American History and Culture.
EXHIBITION LOCATION
Morton Fine Art (MFA)
1781 Florida Ave NW (at 18th & U Sts)
Washington, DC 20009
HOURS
Tuesday – Saturday 
11am – 6pm
Sunday 12pm-5pm
About (Re)calling & (Re)telling
Kesha Bruce uses photography as a means to explore new ways of conceptualizing cultural and ethnic identities and histories. Inspired by a collection of old and damaged negatives given to her by her grandfather, (Re)calling and (Re)telling is essentially the next step in the progression of those ideas.
Each photograph in (Re)calling and (Re)telling begins with a single large-format negative. Once a print has been made from the negative, fragments of maps, drawings, or other found imagery are manually manipulated directly in front of the camera lens, on a delicately lit three-dimensional set, in order to arrive at a final image. Each image in the series is composed and created "in camera" without the aid of photo-editing software.
(Re)calling and (Re)telling is part history, part personal mythology, and part homage. Each image contains narratives and histories, both real and invented, that give voice to individuals who remain marginalized by the commonly accepted meta-narratives within Western culture.
That They Might Be Lovely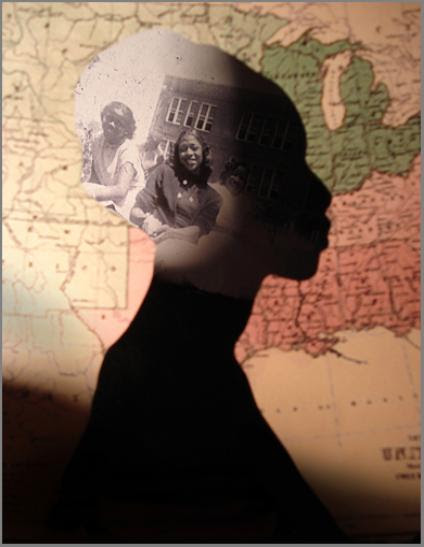 That They Might Be Lovely, 12″x9″, archival pigment print, edition of 15
That They Might Be Lovely
 was created by combining three images: The first, a Slave Map, dating from 1857, illustrating slave populations by state and county; a daguerreotype portrait of a slave woman named Delia, taken by Louis Agassiz in 1850; and a photograph of three lovely, smiling women, taken by my grandfather, nearly one hundred years later.
In Delia's portrait, I saw not just a portrait of a slave, but a portrait of a woman who refused to be shamed by history. Much like the ancient limestone busts of Nefertiti, her profile reveals dignity and strength.
In the narrative I've created, the three young, beautiful, women, posing happily in a field, represent Delia's private imaginings.
They are her dream, her wish, and her hope for the future. –KeshaBruce
And Then I Shall Be Free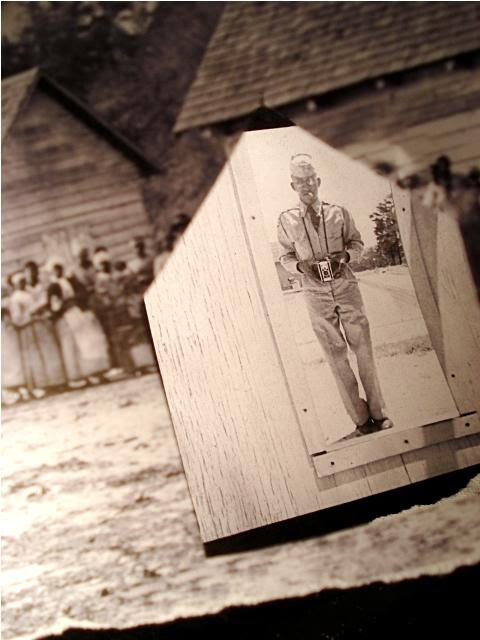 And Then I Shall Be Free, 12″x9″, archival pigment print, edition of 15
My grandfather seemed to have picked up photography as a hobby during the period from 1950-1955 while he was a soldier during the Korean War.  He never spoke to me about his photographs until I too began studying photography at University.  Then, one day, without explanation, he gave me his entire collection of negatives.
And Then I Shall Be Free combines an archival photograph taken of a slave plantation with an inset self-portrait of my grandfather in uniform. For my grandfather, being a soldier represented the possibility of a better life, and ultimately freedom. –Kesha Bruce
Begotten 
Begotten, 12″x9″, archival pigment print, edition of 15
While religion has never been the subject of my work, my religious upbringing has definitely had a significant influence on my work.
The idea for this image came from an archival photo of slave children on a plantation. This particular photograph of the children brought to mind a biblical verse that had always fascinated me.
The first chapter of the book of Matthew traces the genealogy of Christ. The chapter begins: "Abraham begot Isaac, and Isaac begot Jacob, and Jacob begot Judah and his brothers…" and continues on for another 16 verses, in this same manner, until we reach the birth of Jesus Christ.
I used a simplified shape of a house and the words from the passage as a foreground to reframe the original image. –Kesha Bruce
Nobody Knows Her People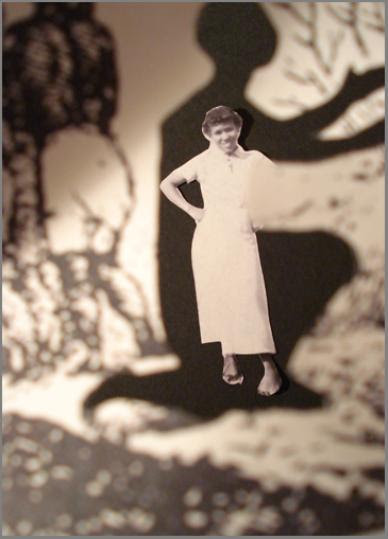 Nobody Knows Her People, 12″x9″ archival pigment print, edition of 15
"Nobody Knows Her People" is a phrase I once overheard one of my family members use to explain why nobody really knew much about my grandfather's mother.  Much later, I learned that she was orphaned as a young child and was taken in and raised by another family, eventually taking their last name.
The primary image I've incorporated into Nobody Knows Her Peoplewas a very popular abolitionist propaganda drawing that was widely circulated in many different versions and printed in many different publications.  I was always struck by the simplicity and the power of this drawing and it immediately came to mind once I'd decided I wanted to create a narrative about history, disconnection, and loss.
–
Kesha
Bruce
About National Museum of African American History & Culture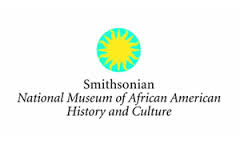 The National Museum of African American History and Culture is the only national museum devoted exclusively to the documentation of African American life, history, and culture. It was established by Act of Congress in 2003, following decades of efforts to promote and highlight the contributions of African Americans. To date, the museum has collected more than 36,000 artifacts. Nearly 100,000 individuals have become charter members of the museum. When the NMAAHC opens on 
September 24, 2016
, it will be the 19th and newest museum of the Smithsonian Institution.
There are four pillars upon which the NMAAHC stands:
It provides an opportunity for those who are interested in African American culture to explore and revel in this history through interactive exhibitions;
It helps all Americans see how their stories, their histories, and their cultures are shaped and informed by global influences;
It explores what it means to be an American and share how American values like resiliency, optimism, and spirituality are reflected in African American history and culture; and
It serves as a place of collaboration that reaches beyond Washington to engage new audiences and to collaborate with the myriad of museums and educational institutions that have explored and preserved this important history well before this museum was created.
The NMAAHC is a public institution open to all, where anyone is welcome to participate, collaborate, and learn more about African American history and culture. In the words of Lonnie G. Bunch III, founding director of the NMAAHC, "there are few things as powerful and as important as a people, as a nation that is steeped in its history."