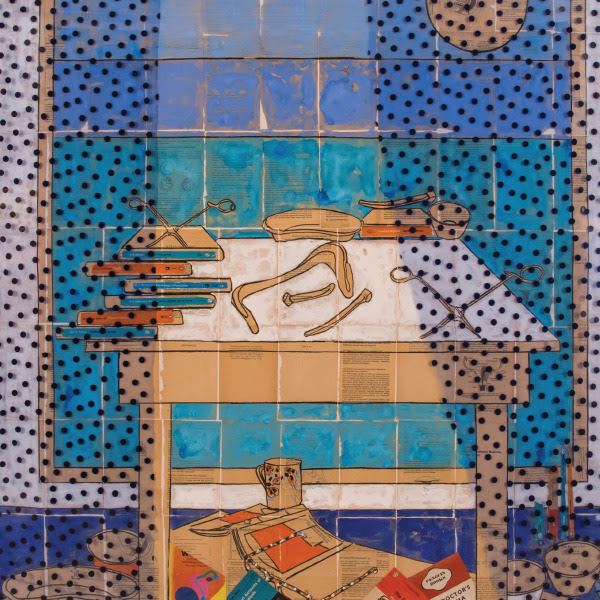 Deakin University Art Gallery warmly invites you to the official opening of
KATHERINE HATTAM:
DESIRE FIRST

1978–2015
To be opened by Judith Brett, political historian and
Emeritus Professor of Politics, La Trobe University
Thursday 17 September
6.00 pm for 6.20 pm speeches
Function will conclude at 8.00 pm
Free floor talks with the artist and exhibition curator
Wednesday 30 September at 12.30pm
and Friday 16 October at 12.30pm
RSVP essential by Friday 11 September
via http://engage.deakin.edu.au/katherinehattam
This exhibition surveys the work of Melbourne-based artist Katherine Hattam,
from the early drawings of her first exhibition at the Ewing & George Paton
Galleries at The University of Melbourne in 1978 through an evolving practice
that also encompasses collage, printmaking and sculpture. In a practice that has
extended over five decades, Hattam has developed a distinctive register of recurring
motifs, in particular the chair and other domestic objects, which she combines
with references to literature, feminism, family politics, art history and modern
psychoanalysis in the creation of beguiling and personally symbolic works.
The exhibition catalogue includes an essay by curator Emma Busowsky Cox
and is prefaced by Patrick McCaughey.
Cover image: The doctor's dilemma, 2007 (detail) Book pages, fabric, charcoal and mixed media on paper, 130 x 120 cm.
Collection of the artist. Image courtesy of the artist and Daine Singer. Photography: Simon Peter Fox
Exhibition dates: 9 September to 16 October 2015
Deakin University Art Gallery, Deakin University Melbourne Burwood Campus
221 Burwood Highway Burwood 3125 Melways Ref 61 B5
T :03 9244 5344 F :03 9244 5254 E: artgallery@deakin.edu.au
Hours Tuesday – Friday 10 am – 4 pm Free Entry
Please visit deakin.edu.au/art-collection for more details.
For information about parking on campus,
please visit deakin.edu.au/parking.